A major fall trend this year is fur.
However, I live in Texas. That means I will probably only ever have once or twice each year when the weather is actually cold enough to don a fur.
Fortunately, there are new ways to wear fur that don't require freezing cold temperatures. Although you'd probably look a little silly in them in the summer heat, and should really wait for at least moderately cooler temps.
Dress by Gucci
Vest also by Gucci... (they have a *beautiful* line this fall, btw)
Furry Accessories!
"Marianna" Tote by Christian Louboutin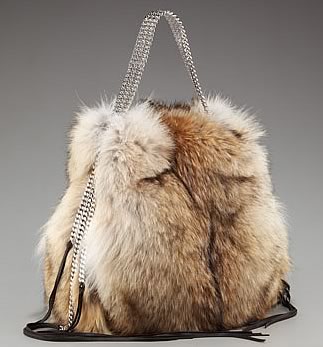 I *LOVE* this fur ring, btw. Found it randomly at
Gayle Friedman Design
...
Ok, you'll need it to actually be cold to sport these looks:
Burberry Classic Trench + Fur =
This..."creation"... is also by Burberry. I want to like it, I do. I'm just not sure how I feel abt external fur shoulder pads...
Furry Frock, compliments of Neiman Marcus... Pologeorgis Knit Rabbit Poncho
Also at Neiman's, Sophia Cashmere Scarf & Hat with Fur PomPoms
And for those who want to go completely over the top, Chanel has you covered. Literally.
Personally, I'll be skipping the gianormous furry boots trend, and sticking to something a little more traditional. Here is a pleasant alternative...
The best furry things I could find online... my BABIES!!!
There are even special outfits just for them! Courtesy of Juicy Couture!